Are your late shipments keeping you up at night? Are you frustrated with customs paperwork that just keeps getting delayed? Have you always been curious about how augmented reality can help with your warehouse operations? Do you want to find ways to improve your logistics network and make it run more efficiently? Look no further, join us next month at the Oracle Modern Business Experience in Las Vegas and get your questions answered.
The Oracle Modern Business Experience (MBX19) runs from March 19-21, 2019, and will offer educational sessions, panel discussions, and networking events revolving around core business functions such as finance, human resources, and supply chain. The Oracle Logistics Cloud sessions at MBX19 include a mix of product overview and roadmap sessions and customer success and business case sessions. This year, we're also introducing some exciting new innovations that are going to help you run your supply chain processes more smoothly.  
Bookmark the Logistics and Order Management Cloud MBX sessions guide to help plan your experience! Learn about our customers and partners as they share insights on why they chose Oracle Logistics Cloud, and their experiences on implementation. Some key sessions include:  
Tomorrow's Supply Chain Today: Logistics and Order Management in the Cloud
This general session will give you an overview of Oracle's logistics and order management products and insights into the product roadmaps. In addition, hear firsthand from industry-leading organizations on how they are implementing their vision of the future supply chain with Oracle solutions.
Logistics 4.0 – Realizing value through OTM and IoT Fleet Monitoring Cloud
Discover how "smart" logistics operations can make an impact in reducing core operational complexities for a large number of logistics companies. This flexible, hardware-agnostic platform connects all possible assets and are not limited to just sensors, items, containers, equipment, vehicles, and employees. Thus bringing greater operations efficiency throughout the logistics operations.
How to Design and Operate a Resilient Logistics Network
Changes, both unplanned and planned, are a constant in the supply chain. In this session learn how to design your supply chain to operate optimally, planning for both forecasted and unplanned disruptions using logistics network modeling (LNM), an intrinsic capability of Oracle Transportation Management Cloud. LNM allows you to quickly model changes to your network and analyzes for the optimal response using real-world operational data for complete accuracy.
Leverage Free Trade Agreements for a More Cost-Effective Supply Chain
Leverage the power of Oracle Global Trade Management to take advantage of trade agreements. Oracle GTM can easily identify import products that might benefit from trade agreements. It then runs large scale campaigns to solicit documentation from suppliers, helping to reduce import duties and creating significant savings within your supply chain. 
Ames: Integrated Logistics with Oracle Transportation and Warehouse Management
Learn more about how Ames deployed scalable, high-volume, integrated logistics functions with Oracle Transportation Management and Oracle Warehouse Management cloud solutions to support its retail customers.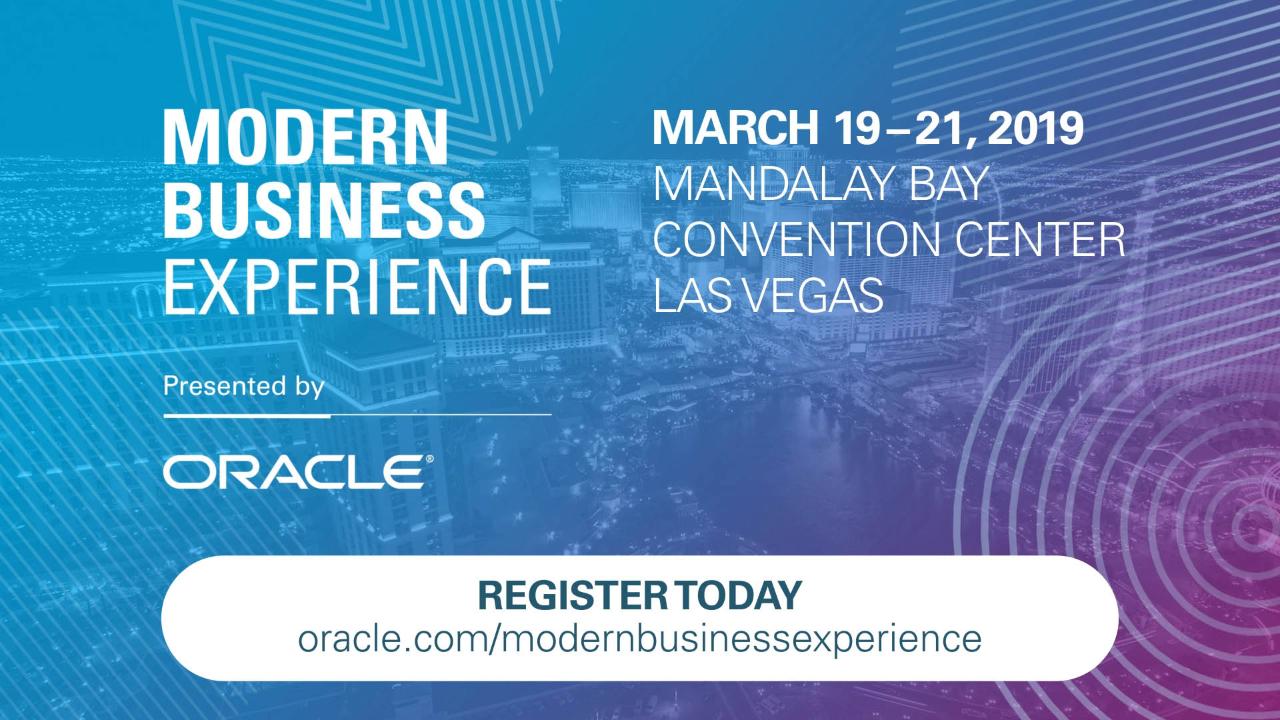 Don't wait until it's too late. Take control of your logistics processes and take the first step toward modernizing your supply chain. Register for MBX19 today to receive $500 off the onsite rate.​
See you in Las Vegas!